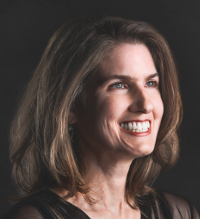 Lauren Bernofsky's catalog includes solo, chamber and choral music as well as larger-scale works for orchestra, film, musical, opera, and ballet. Her music has been performed across the United States, Europe, and Asia, as well as in Australia, New Zealand, Greece, Iceland, Norway, Brunei, Kenya, and South Africa.
Inspired by the expressive potential of each instrument, her distinctive language speaks both to musical history and the present day. The artistry of her orchestration grew out of her doctoral studies with master composer Lukas Foss. She holds degrees from the Hartt School, New England Conservatory, and Boston University. Her philosophy of composition is simple: music should be a joy both to play and to hear.
Bernofsky's works have been commissioned by the Harford Ballet, the Bloomington Symphony Orchestra, the Delmar Trio, Jeffrey Curnow (Philadelphia Orchestra), and many others. Winner of the National Flute Association's Newly Published Music Competition for her Sonatine, her earlier awards include the Contempo Festival OPERA PUPPETS Mainstage Award and grants from the American Music Center, American Composers Forum, and National Foundation for the Advancement of the Arts. Her trumpet concerto is frequently performed as audition and recital repertoire both in the United States and abroad.
Her music has been heard at Carnegie Hall, the Berlin Rathaus, Tanglewood, the International Trumpet Guild Conference, the National Flute Associaton Conference, the Midwest Clinic, Banff, the Stellenbosch International Chamber Music Festival, and the Spanish Brass Alzira Festival. Performances by the Atlanta Symphony, Boston Symphony Chamber Players, and by members of the Metropollitan Opera Orchestra, New York Philharmonic, Hartford Symphony, Philadelphia Orchestra, and many others. Her works are published by Boosey & Hawkes, The FJH Music Company, Balquhidder Music, Fatrock Ink, Hal Leonard, Grand Mesa Music, Alfred Publishing, Wingert-Jones, Carl Fischer, and Theodore Presser.
Lauren Bernofsky's works can be heard on the Polarfonia, Albany, Music to My Ears, Blue Griffin, MSR Classics, and Emeritus labels.
Her date of birth is September 25, 1967, in Rochester, MN.
To contact Dr. Bernofsky, click here.